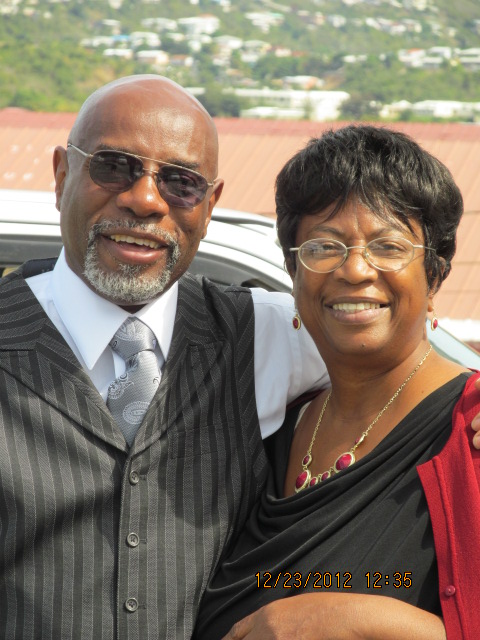 Samuel and Cynthia Matthews
September 2013
I was born on 18 February 1949 and raised by my dad in the rough ghettos on the east side of Detroit, Michigan. I graduated from Southeastern High School in June 1966. To my knowledge I was the first Black apprentice pipe-coverer to be accepted into that skill trade union in Michigan (1968). I covered pipe for Owen Corning Fiberglas (asbestos).
I'm a retired US Navy Nuclear Submarine Weapons Officer (20 years, 1969‑1989). I served 10 years as an Enlisted Man (E1 ‑ E7) and the last ten years as a Commissioned Officer (O1 ‑ O3). I served as the Senior Scuba Diver and as the Chief Torpedo Fire Control Technician (FTG) onboard the nuclear submarine USS Lafayette (SSBN 616). I served as the Officer of the Deck (surfaced and submerged), First Lieutenant, Diving Officer, and Assistant Weapons Officer onboard the nuclear submarine USS Daniel Webster (SSBN 626). At various shore commands I served as a Non-Judicial Punishment Investigating Officer, Submarine School Instructor and Division Officer, Satellite Launch Planning Officer, Quality Assurance Staff Assistant, and Executive Officer.

In March 1977, I became a Christian - a member of the body of Christ - a servant of God, a preacher of the Gospel of Jesus Christ. I have performed missionary work in Haiti, Honduras, Jamaica, New Mexico, South Africa, and the state of Utah. I have preached at various lectureships and as the guest evangelist for the churches of Christ in England, Scotland, various Caribbean Islands, and more than half of our United States.

While serving as a deacon with the church in Salt Lake City, Utah, I began and preached on the "Bible Is Right" radio program. This program was aired seven days per week (from 1984‑1994) over Bountiful, Utah station KBBX (1600 on "AM" dial). In 1987 I published two religious tracts which can be read in English or Spanish: How To Be Just A Christian and The Five Steps To Salvation. A third article, Come Let Us Reason Together, is a teachable fill-in-the-blank Bible study. I've written or edited many other Articles For Spiritual Growth published in various periodicals.

I have a Bachelor of Science degree in Occupational Education from Southern Illinois University at Carbondale (1978), and a Masterís of Science degree in Church Ministry from Southern Christian University in Montgomery, Alabama (1999). The beginning of this web site (www.TrustInGodAmerica.com) was a class assignment I completed while earning my Masters.

On 30 August 1972, I married "Miss America" (America Teresa Smith) of St. Thomas, Virgin Islands. We were blessed with four wonderful faithful Christian children, two son-in-laws, one daughter-in-law, four handsome grandsons, and three precious granddaughters. "Miss America" passed away in a Portland, OR hospital at 7:40 pm on 19 June 2010. Please go to this 11 minute VIDEO to view a picture tribute which was shown at her funeral on 24 June 2010. On 5 February 2011, I married Cynthia Jones of Detroit, Michigan. We are presently working and worshiping with a congregation of Christians in St. Thomas, Virgin Islands.

I'm just a Christian. I'm serving God and mankind to make a difference in the world. I love the Lord our God and all other created things. Like the apostle Paul, I can say: "What things were gain to me, those I counted loss for Christ. Yea doubtless, and I count all things but loss for the excellency of the knowledge of Christ Jesus my Lord; for whom I have suffered the loss of all things, and do count them but dung, that I may win Christ, And be found in him, not having mine own righteousness, which is of the law, but which is through the faith of Christ, the righteousness which is of God by faith: That I may know him, and the power of his resurrection, and the fellowship of his sufferings, being made conformable unto his death; If by any means I might attain unto the resurrection of the dead" (Philippians 3:7‑11)
All Glory to God!
With love in Christ,
Samuel A. Matthews
Galatians 2:20